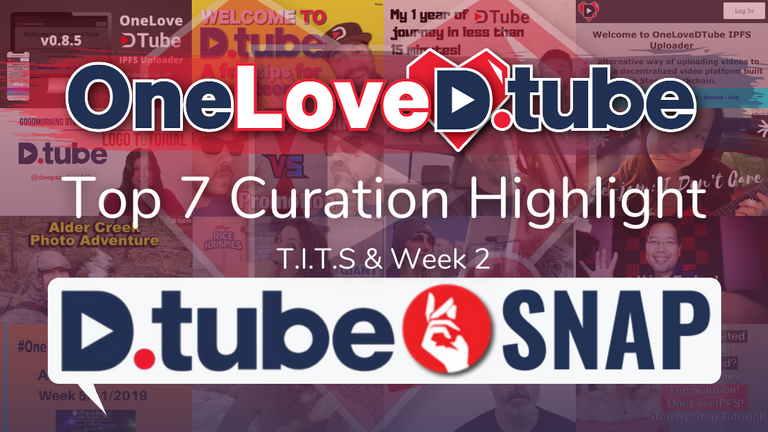 ---
Highlighting just a few of last week best curated posts in this video, these are our curators tops 7 picks.
Curation Highlight Sponsored by Ionomy
@d0ntst0pmen0w – From DTube Creator to DTube Leader –
@surpassinggoogle – Steem & TRX Tokenomics! While Still in Recovery!?!? That's Dedication! –
@brishtiteveja0595 – A very personally thorough introduction! –
Always Live From The Heart ? Join the conversation in OneLoveDTube Discord:
Are You A DTube Creator? Get Tips For Tweets!!!
Watch the OneLoveDTube Twitter account for Fleets and Tweets which may contain detail of how you may get DTUBE or HIVE and possibly even BAT tips.
T.I.T.S – Tip Instant Tweets Sundays
Get $HIVE Tips for Tweets
Receive a #Hive Tip via @hivetips
Todays Fleet
Tweet about your @Ionomy DTUBE purchase for Tips
DTubeSnap – Daily Affirmation
Week 1 Winner
Tell us about your entrepreneurial or personal wellbeing journey with a 3-5 min video
Reward:
Would you like to help us grow our efforts? We are searching for sponsorships and team members! Please reach out to the team in our discord with terms of your sponsorship or application to join and we will happily help. With just a little trust in our long standing team we can do much. Help make use of your idle VP on quality content with our team of Curators. Organize Hive/DTube/Steem/Blurt/Bat promotional Twitter events all in your name with funding. If you can dream it we can do it … Together!
Can't Wait To See All Your Glorious Videos ?
@OneLoveDTube
Avalon Block Explorer
Found at https://blocks.oneloved.tube you can see @TechCoderX's Announcement Post Here
With this tool you can check and see we have 2 Leaders in the Top 10 DTube Consensus and also view the Rich List mentioned above.
Much Love,

@OneLoveDTube
Tired Of Your Videos Not Playing? We Have Solutions!
An alternative way of uploading videos to DTube, a decentralized video platform built on Steem, Hive and Avalon blockchain. With a competitive $0.087/GB/month you will get full access to our creator tools including our IPFS Discord Pin Bot, DTube Uploader, Thumbnail Swap Tool.
Videos Playable Forever, Faster Playback, High Quality Thumbnails, Thumbnail Swap Tool, 0% Beneficiary (exclusive to uploader.oneloved.tube interface), Add Beneficiary To DTube Posts, Create Steem/Hive Post & Upload Images Within Our Uploader, Skip Upload & Rendering Queues, Use Upto 7 Post Tags, Resume-able Uploads.
Roadmap:
"We #OneLoveDTube are a group of content creators aiming to support creativity on DTube and the platform alike by manually curating content while providing IPFS backup solutions that keep videos playable forever!"
We Will Get There Together
Join Us In Discord, Click The Image Below
---